2019 Progress Report
This past year for me hints of the proverbial phrase "The mills of the Gods grind slow, but exceedingly fine." I began to focus my attention on ocean noise pollution in 1992. At the time very little was known about the impacts of noise on marine life – and this was exacerbated by the fact that most of the people doing marine acoustics work at the time where physical oceanographers, not biologists, so they didn't understand biological systems enough to understand how disruptive some of their practices were.
This started changing once the impacts started becoming apparent – dead whales washing up on beaches after military exercises, and fishing catch rates sinking in the wake of seismic airgun surveys. But while the gears of mitigation and regulation began engaging, it was (as always) a wrenching act between the conservationists on one the one side, and the Navy and industry on the other – those whose actions were accentuating the need for regulation, with the ever cautious regulators not wanting to get torn up between the conflicting factions.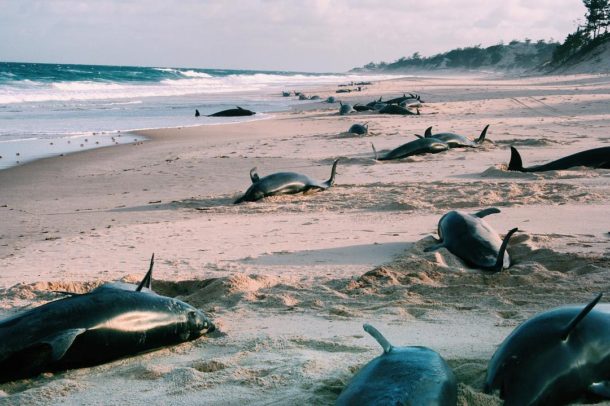 Mass dolphin stranding as a consequence of NATO sonar use in 2006
As noise exposure regulations started appearing, I found a serious shortcoming in the "metrics"- or how the exposure impacts are expressed in numbers. A conference paper I delivered in 2006 highlighted nine disparate metrics used for expressing noise levels (in three different time dimensions, no less!). For me this was the clarion call to get involved in "metrics" with the hopes of tuning up the language and math used in expressing exposure impacts, and related variables in the field.
OCR joined the American National Standards Institute (ANSI) through our Acoustics Society membership, and through that becoming an ANSI delegate to the International Standards Organization (ISO). You sort-of need to develop a taste for ANSI and ISO convenings (or have a particular personality disorder), because the task of building up a useful metric vocabulary centers around using existing, known, and proven words, formulas, and concepts to derive more accurate ways of using them.
Of course this can be a cumbersome and lugubrious process (and frankly pretty arcane for our OCR community). This is particularly the case if one wants to introduce a new word or new concept – which of course is what I wanted to do. I have always maintained that while the regulations are based on presumed impacts using clear metrics, they fall way short of expressing actual impacts. Addressing this shortcoming, I advanced two terms that allude to sound qualities – not just quantities: "Soundscapes," and "Kurtosis," which the ISO convener reluctantly entered into the ISO "Underwater Terminology Standard."
Rushing ahead a quick 12 years; these two terms became featured themes at the 2019 "Aquatic Noise" conference in den Haag, Netherlands last July. The field of Marine Bioacoustics is growing, but still includes a small enough coterie to know most people's names. Nonetheless I was chuffed to have the terms show up, and get some "grief" from colleagues for having stuck to my guns all these years.
What did not move so slowly was all of the grassfires we've been putting out due to the takeover of our Federal Government by the fossil fuel industry. But working with our colleagues at Oceana, Southern Environmental Law Center, and Surfrider, we managed to further delay the East Coast Outer Continental Shelf seismic surveys enough to have it muddy up the 2020 election waters for oil-funded politicians. This means that if we address it at all again, it will be after the election. (But we won't let that happen, will we?)
We did our annual pilgrimage to Washington DC in June, and due to a confluence of circumstances found ourselves visiting "vulnerable" Republican representative's offices to give them proper talking points on things like seismic surveys and offshore oil and gas development. It seems that it doesn't matter how much money the industry throws at it, the public is not warm to fossil fuel development off their coasts. This may be the only bi-partisan issue these days; and while the oil-soaked legislators back draconian deregulation at the industry's pleasure, their voters understand what is at stake on the coasts of their respective states.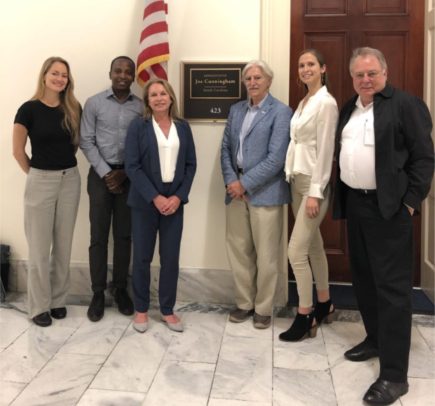 Blue Frontier, Inland Ocean Coalition, and OCR after our meeting with Legislative Director for Rep. Joe Cunningham (D SC)
Around the first of the year we were propelled to jump into another field of inquiry, when evidence started appearing indicating that seismic surveys may be killing marine zooplankton – the foundation of the ocean food chain. If this is true, it would be a game-changer. In mid-August I was asked by Bob Shavelson of Cook Inlet Keeper to come up to Homer, Alaska in October to speak with the North Pacific Fisheries Council meeting about the known impacts of these surveys on marine fisheries – at the same time a seismic survey was being conducted in the Cook Inlet. I suggested that if they wanted to spend some money, we should really get something done!
This began a research project with Manolo Castellote (NOAA and Univ. Washington) to deploy four hydrophone moorings in and around the survey. A few weeks later we returned to perform plankton samples directly in front of, and directly behind the survey vessel. The samples are with zooplankton specialist Dr. Rob Campbell with the Prince William Sound Science Center right now being analyzed. We have now retrieved the hydrophones and will be doing the analysis on the acoustical data. We're pretty excited!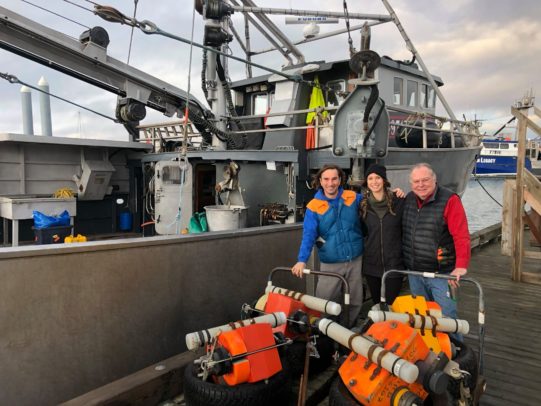 Cook Inlet Team: Manolo Castellote (NOAA), Daniela Huson (OCR), and Michael Stocker (OCR)
Also in the pipeline is our Farallones Hydrophone Array project. Working with NOAA, the Farallones Marine Sanctuary, UCSF Estuaries and Ocean Science, JASCO Applied Science, and Point Blue Conservation Science, we will be deploying two hydrophone arrays aimed at the SF Bay shipping lanes to sort out the interactions between the ships and the whales, with the objective of devising techniques and technologies to prevent whale/ship strikes. We're honored to be working with such an esteemed assembly of scientists and institutions on a project that will really put OCR in a whole new league.
And our progress report would not be complete without mentioning our "Sounds of the Bay" cruise on the Freda B – a gaff-rigged schooner, with a boat-load of 30 under-served 4th and 5th graders from Bayside Elementary school in Marin County. Most of these kids had never been on a boat before, let alone a big sailing vessel. The first 40 minutes was pure adrenalin! We didn't get a lot of science done, but kids got to get out on the Bay, and got a chance to skipper the boat. The last 40 minutes had all 30 kids aboard "in the land of nod."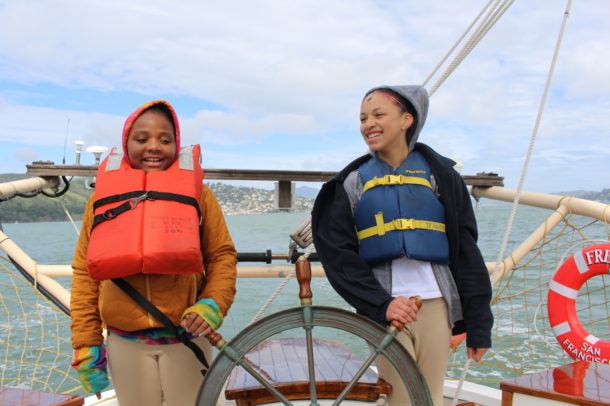 Marin City students take sail with OCR
Of course none of this could happen without your ongoing support – for which we are deeply grateful. Can we count on you joining us again this year in underwriting our efforts through these challenging times?
– Michael Stocker (OCR Director)